The Propeller Club of the United States—Port of Savannah was organized in February of 1933.
We have grown to a diverse group 250+ individuals representing more than 145 organizations in the Savannah maritime and associated communities. Our events include luncheons which feature a guest speaker, the Annual State of the Port Address, a winter Oyster Roast and of course, National Maritime Day.
Welcome New Members    
Sherry Logan, Dorsey Tire
Steven Weisensee, Port Jersey Logistics
Michael Larsen, National Cargo Bureau
Spencer Waters, ARCO Design & Build
Madison Bowman, Savannah Pilots Association
Jeanette Lopez, Myrick Marine Contracting 
Renee Bundy, TCI
Andrea Godwin, CMC Logistics, Inc.
Parker Graham, Optix LLC
Bailey Scarboro, Colonial Towing
Monica Stroud, MJ Hogan
Robert Wiggins, MJ Hogan
Wayne Nabors, IHS Transport
Sean Munton, TCI Transportation
Jan Womble, Savannah Logistics Group
Awards
2023 Maritime Person of the Year
LT Alexander McConnell
United States Coast Guard
2023 Propeller Club Member of the Year
Lynn Brennan
Retired
Announcement
October 12 @ 9:30 am

-

2:00 pm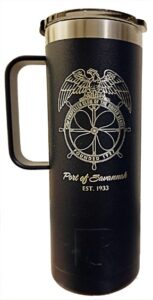 The Club Mug
Deep-Sea Blue with our club logo engraved. Made by RTIC known to keep hot/cold beverages hot and cold.
It also features a screw-on top to help avoid spills.
We will have them available at the Pirates' House Member's Meetings.