The Propeller Club of the United States—Port of Savannah was organized in February of 1933.
We have grown to a diverse group 250+ individuals representing more than 145 organizations in the Savannah maritime and associated communities. Our events include luncheons which feature a guest speaker, the Annual State of the Port Address, a winter Oyster Roast and of course, National Maritime Day.
Welcome New Members
Michael Mashburn, Peeples Industries Inc.
Gary C Davis, Condustrial Inc.
Molly Carrott Taylor, Ships of th Sea Maritime Museum
Brandi Perossa, Smash My Trash Savannah
Sam Perossa, Smash My Trash Savannah
Tonya Gaik, IMC Companies (AIS)
Steven Peschock, Georgia Ports Authority
Norma Fleming Lee, Coastal Heritage Society
Deborah S Bowen, Signs of the South
Darius Kreivys, Cargoloop LLC
Keith Higginbotham, Shell
Thomas Reed, Sparx Express
Duke Acors, Georgia Ports Authority
Awards
2023 Maritime Person of the Year
LT Alexander McConnell
United States Coast Guard
2023 Propeller Club Member of the Year
Lynn Brennan
Retired
Announcement
June 15 @ 8:00 am

-

5:00 pm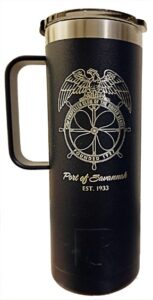 The Club Mug
Deep-Sea Blue with our club logo engraved. Made by RTIC known to keep hot/cold beverages hot and cold.
It also features a screw-on top to help avoid spills.
We will have them available at the Pirates' House Member's Meetings.